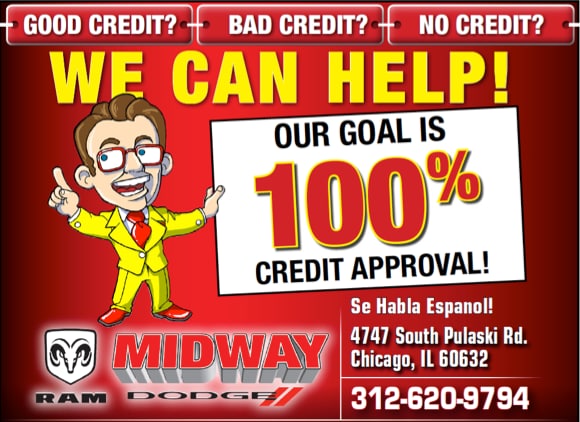 Did you know an auto loan is a great way to rebuild your credit? Granted that you make your monthly payments on time, an auto loan improves your credit score because it proves you're responsible with debt. Let the experts at Midway Dodge in Chicago help you improve your credit score and drive away in a new car, truck or SUV at the same time. Read about how financing a vehicle can work to your advantage and learn tips that will help keep you on track.
Give us a call at (888) 416-9124 if you have any questions, and our finance specialist will provide answers.
How Will an Auto Loan Rebuild My Credit?
Your credit score is like your GPA. It's the "grade point average" of your credit history length, balance owed, payment history, new credit, and type of credit. It lets a lender know how good you are at paying off your loan in full and on time until your debt is settled. Making payments on time is perhaps the most important factor in a credit score, and new auto loans offer the payment schedule that will help a bad credit score recover. As you pay down your loan each month, our Dodge and Ram dealership will report your habits to the credit bureaus, which affects your score for the better. The finance team at Midway Dodge has several plans available, and everyone gets pre-approved for auto financing at our Chicago area dealership.
---
Healthy Financial Habits to Adopt
Make your payments on time. If you can help it, pay ahead of time. Your credit score is a reflection of how you've handled past debt, so paying on time will show future lenders you're trustworthy and improve your score at the same time.
 
Live within your means. Make a budget to help you not overspend so you can pay off your debt according to the terms you agreed to.
 
Avoid closing credit card accounts. Credit history affects your credit score, and the longer it is the better.
 
Fight impulsive shopping. Make a list before heading to the store and stick to it.
 
Track your spending. As humans, we are guilty of behaviors we aren't aware of and spending habits are no different. See where you can afford to cut back or learn if some purchase can be cut out all together.
 
Pay more than the minimum due. The more money you pay back each month, the faster you pay off your debt.
---
Apply for Financing at Midway Dodge in Chicago
Our Dodge dealership can help you drive away in any new car you want! If you've had a hard time getting approved for financing because of your poor credit, our simple financing process can help. Complete our secure online finance application, we'll check your bank account, and then our finance experts will help you get the auto loan you need. Your job is what matters at the Midway Dodge in Chicago, not your credit score.
Do you still have questions about rebuilding your credit? The finance specialists at our Dodge dealership in Chicago have the answers you're looking for. Contact us through our online form or by calling (888) 416-9124 to get additional information.