4WD vs. AWD: Technology Differences
AWD uses electrical sensors to determine which wheel should get power from the engine when it detects slipping. AWD systems use three differentials, center, front, and rear to distribute power from the transmission to the wheels.
4WD uses two differentials and a transfer case to get power from the engine to the wheels, but in this case, the wheels spin at the same speed when the system is engaged. That's why it is important to only engage the 4WD system when you're ready to use it otherwise your drivetrain can get damaged. For instance, when making a turn, the inside wheel has to turn more slowly, which is why using the 4WD system only under the proper circumstances is important.
---
4WD vs. AWD: Differences in Traction
Since AWD is always engaged, the sensors included with the system detect slipping and then sends power to the necessary wheel. AWD is better for slick pavement, since it improves traction as you need it instead of all the time. If you use an AWD system off-road, there would be too much slippage for too many wheels at once, and the system wouldn't know where to send power.
4WD trucks, such as the Ram 1500, are better equipped for off-roading. This is because power is distributed equally amongst all four wheels at all times when engaged, making it easier to tow heavy loads on slick surfaces or drive through mud and snow. There are even various drive modes such as sand mode, snow mode, rock mode, and mud mode to improve traction and make off-roading more seamless. Read our Ram 1500 review to learn how it will improve your off-road adventures.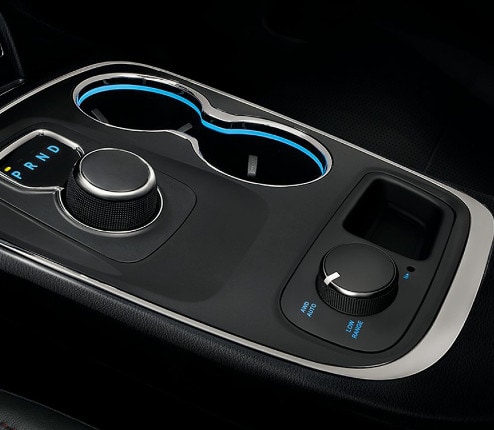 ---
4WD vs. AWD: Availability
Typically speaking, AWD is reserved for SUVs while 4WD is commonly found on pickups. Since 4WD is designed to help vehicles crawl over rocks, sand, and mud, it's available on off-roading vehicles, which are traditionally pickups. If you're wondering what an AWD SUV or minivan can do for your family, visit our SUV vs. minivan page.
4WD vs. AWD: Advantages
With 4WD and AWD, some advantages are universal such as improved acceleration, traction, and towing capability. Since 4WD and AWD sends power to all four wheels instead of only two, gripping unstable terrain such as wet and icy roads, sandy areas, and unpaved dirt roads is seamless. As a result of improved traction, acceleration and towing capabilities improve as well. Check out the additional advantages each drivetrain offers.
4WD is perfect for off-roading, powers all four wheels equally, and can be turned off for improved fuel efficiency.
AWD is superior in inclement weather, always engaged & works on demand, and improves handling-when equipped with torque vectoring feature.
4WD vs. AWD: Disadvantages
Both drivetrain systems add weight and complexity to your vehicle because of the extra components necessary for them to work. This makes your tires wear faster, decreases fuel efficiency, and increases the chances of components needing more frequent repairs. Extra maintenance work is required as well, such as differential oil changes.
A common misconception is that AWD and 4WD improves stopping distance. You should still be careful when driving in inclement conditions and give yourself extra stopping time.
Schedule a Test Drive at Midway Dodge
Now that you know whether AWD or 4WD meets your needs, find an SUV or minivan in our new inventory and schedule a test drive appointment to take it for a spin. You can also save yourself time at our Dodge dealership in Chicago by completing our secure finance application. A finance expert will get in touch with you soon to discuss finance vs. lease plans you qualify for.