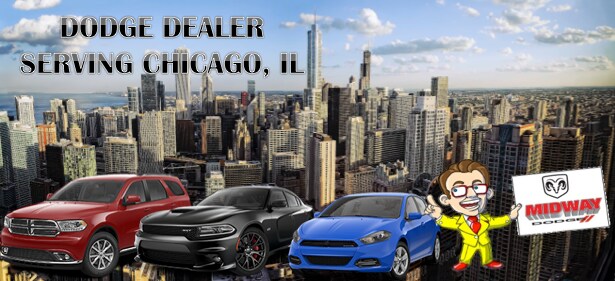 Dodge Ram Dealership Serving Chicago, IL

Which Chicago area dealership offers the latest in Dodge and Ram inventory, but also has finance options for every type of credit? Midway Dodge is the ideal dealership location for Chicago area drivers who want the latest Dodge and Ram models, but might not have the best credit in the world. Few dealerships in the Chicago area are willing to offer the latest Dodge and Ram models to customers without excellent credit, but Midway Dodge is willing to help just about anyone find a vehicle that will fit their budget. Give us a call at our Dodge Ram Dealership Serving Chicago, IL at (888) 416-9124 with any questions you may have on our financing!

New and Pre-Owned Inventory at a Dodge Ram Dealership

Any Chicago area driver looking for the most aggressive and dramatic lineup available has to see the latest vehicles from Dodge and Ram. The Dodge and Ram lineups are engineered to deliver performance and functionality in places like Chicago's south side and Little Village with some of the most impressive vehicles available. Whether you're looking for the capable Dodge Journey or the mighty Ram 1500, our Dodge Ram dealership has the models that Chicago area drivers want to drive.

Our Dodge Ram dealership also maintains an extensive inventory of pre-owned options for Chicago area drivers to consider. Pre-owned vehicles are a great solution for anyone on a limited budget or who simply isn't interested in paying new vehicle prices. We have a fully searchable online inventory, but we get new models almost every day. Contact our team to see if we have the model you're looking for.  

Special Auto Financing a Dodge Ram Dealership

Our Finance center specializes in financing vehicles for those who have less than perfect credit, but still need a vehicle. Most customers in the Chicago area with poor credit usually did it through no fault of their own and deserve a chance to rebuild their credit. The finance experts at our Dodge Ram dealership will say "yes," where others have said "no." Connect with our auto finance team or try any of our free online financing tools listed below!

Service and Parts Specials at a Dodge Ram Dealership

Not only does our Dodge Ram dealership offer amazing inventory and finance options, but we also have the Mopar parts and service that the Chicago area needs. The parts and service departments at our Dodge Ram dealership also offer several service deals and coupons to help our Chicago area customers save as much as possible.

Get In Touch With a Dodge Dealership Today

If you're a Chicago driver in need of improved performance and awesome capability, then you need to see what your local Dodge Ram dealership has to offer. Midway Dodge has the new and pre-owned inventory that Chicago wants with the finance and service options that drivers require. Get in touch with the team at Midway Dodge by phone at 888-416-9124 or visit our Chicago area dealership during operating hours for more information today!