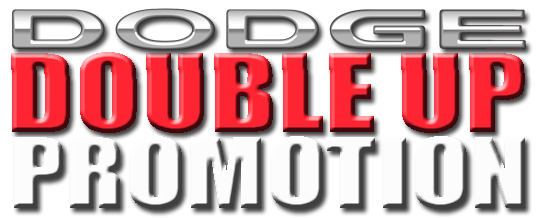 Dodge drivers tend to like two things: speed and technology. That's why the Dodge Double Up Promotion makes so much sense. Customers can lease either the 2014 Dodge Challenger or the 2014 Dodge Charger. Then, after a year, you can simply trade it for the new 2015 model of the same sports car. You can learn more about this and test drive your choice at Midway Dodge, serving Bridgeview and the Chicago area.
Dodge Double Up Promotion
The deal is for real. If you lease the 2014 Dodge Challenger or Dodge Charger, you can walk back into the dealership in a year and ask to make the switch. Your original lease agreement will remain in effect. Your monthly payments will not change. You won't have to make a second down payment. Bridgewater Dodge customers may trade their Dodge lease for a $1,000 bonus amount to purchase the Charger or Challenger. Dodge Double Up Promotion deals are financed via Chrysler Capital, and both lease deals - the original and the switch - must be made with Midway Dodge.
The Challenger
According to Edmunds.com reviews, the 2014 Dodge Challenger is a muscle car that is actually a car you'd like to drive daily (unlike some sports cars). The reviews also agreed that it has great passenger space and even has decent luggage space. There are V6 and V8 versions with plenty of heart-stopping horsepower.
The Charger
Edmunds.com reviews also said the 2014 Dodge Charger holds it own as an especially muscled car with striking appearance, but it also is a sedan that you'd actually enjoy on a daily basis. The available all-wheel drive makes the Dodge Charger a good fit for Chicago's cold winters.The 2015 models will take the world by storm soon. In the meantime, it's worth test driving the 2014 models while you can take advantage of the Double Up deals at Midway Dodge, serving Bridgeview and the surrounding area.