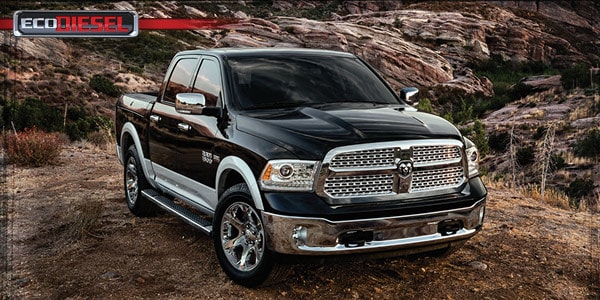 The Ram 1500 has always been one of Americas most favored pick-up trucks, and is about to become even more popular amongst truck lovers and fuel efficiency seekers alike. Diesel powered engines have been a beloved option for trucks for many years, and in todays age is now becoming increasingly popular in other segments such as sedans, SUVs and compact vehicles. Now, Ram is taking things to the next level introducing the new Ram 1500 EcoDiesel in La Grange.
Ram has changed the game when it comes to diesel engines with the debut of the industry's first ever light-duty diesel truck. Earning and incredible 28-mpg highway and able to produce 420 lb-ft of torque, the Ram 3.0 EcoDiesel V6 at Midway Dodge slaughters the competition when it comes to fuel efficiency while allowing you to haul up to 9,200 lbs.
Yes, the Ram 1500 EcoDiesel V6 can achieve 728 miles on a single tank, making the 2014 Ram 1500 the most fuel-efficient full size pick up. But another thing Midway Dodge near La Grange is accomplishing is helping our world become a cleaner place.
One of the most valuable aspects of a diesel engine, other than superior efficiency, is the fact that it burns fuel much cleaner than gas. This reduces harmful CO2 emissions. Ram takes the EcoDiesel engine a step further by including an oxidation catalyst to assist in reducing CO2 even more! The EcoDiesel engine is also suited for B20 biodiesel fuel, making the Ram 1500 the only clean diesel light-duty truck.
Come visit us at Midway Dodge in Chicago and see for yourself why people cannot stop talking about the amazingly cost efficient 2014 Ram EcoDiesel Engine near La Grange.