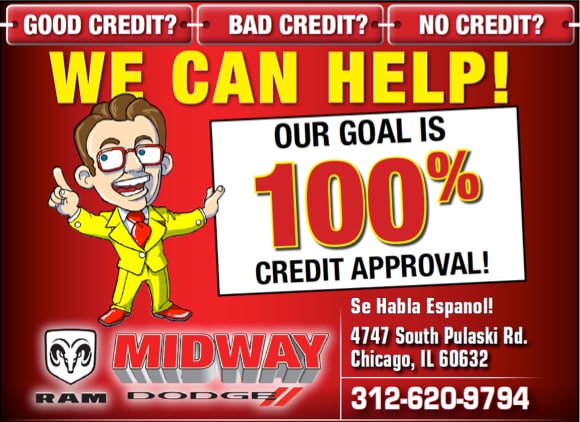 Do you have bad credit? Do you have a job? Did you just get hired, but don't have reliable transportation? 
At Midway Dodge, your job is your credit, but you don't have to show us a pay stub or multiple documents to get an auto loan to rebuild your credit. Simply let us check your bank account and our finance experts will help you get the auto loan you need. Your job is what matters at the Midway Dodge finance & car credit center, not your credit score.
How Will an Auto Loan Rebuild My Credit?
As long as you make your monthly payments on time, an auto loan will go a long way to rebuilding or creating a credit history. Anyone in the Chicago area looking to repair a damaged credit score should consider a new auto loan at Midway Dodge as a path to rebuilt credit. Making payments on time is perhaps the most important factor in a credit score, and new auto loans offer the payment schedule that will help a bad credit score recover.
The finance team at Midway Dodge has several plans available, and everyone gets pre-approved for auto financing at our Chicago area dealership.
Which Vehicles Can I Get an Auto Loan For?
Several customers that visit our Chicago area dealership for an auto loan assume that they will only qualify for the most basic used vehicles in stock. This is not remotely true. In fact, most customers with less than perfect credit are much better served by paying off new vehicles than pre-owned models. Take a look at our searchable online inventory and discuss your options with one of our product specialists before making up your mind.
Contact Chicago's Car Credit Center at Midway Dodge
Do you still have questions about rebuilding your credit? The bad credit finance specialists at our Chicago area Dodge dealership have the answers you're looking for. Contact us through our website or by phone at (773) 376-8060 to get additional information.